Xero's online accounting software is an invaluable tool for your business, offering seamless connectivity with your bank, accountant, bookkeeper, and a suite of other business applications.
At CHIP, we are committed to achieving comprehensive integration with a wide array of software solutions.
To that end, CHIP has developed an integration with Xero, enabling your customers to process payments with ease, which in turn automatically updates the invoices.
This article is designed to walk you through the setup of CHIP Collect for your Xero account, ensuring a smooth integration.
At CHIP, we are continually dedicated to delivering the best customer payment experience.
Necessary Prerequisites
No server setup is required to get started with CHIP for Xero. The only prerequisite is to have an active Xero account and a CHIP Merchant account.
Installation and Configuration
Integrating CHIP Collect with your Xero account involves a simple two-step process:
Granting CHIP access to your Xero account.
Setting up CHIP as a payment provider.
1. Granting CHIP Access to Your Xero Account
To facilitate payments through CHIP Collect, CHIP requires authorization to access four key areas of your Xero account:
Accounting Transactions
Accounting Settings
Accounting Contacts
Offline Access
Begin by visiting the CHIP for Xero authorization page to grant CHIP access. Here, you'll select the organization that you wish to connect with CHIP.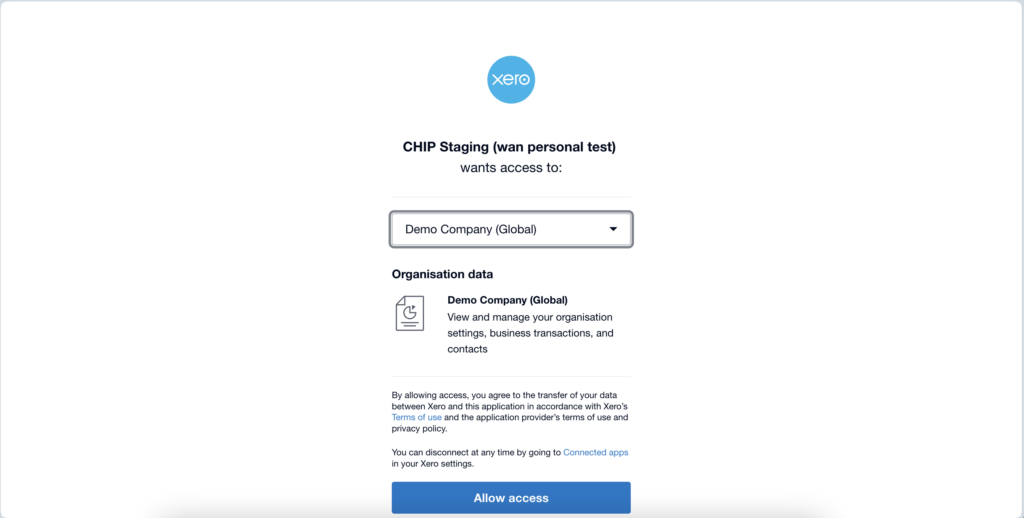 Once access is granted, you will be directed to a new page to configure your CHIP integration. This is where you'll enter your CHIP Secret Key and Brand ID. You have the option to designate a Preferred Payment Method, which sets a default for how customers will initially be presented with payment options.
You can also adjust the clearing account and fee account to suit your business needs.
After completing these settings, a confirmation message will appear, indicating that the configuration has been successful.
Click on the button to continue to the payment method setup.
Note: 

Should there be a need to reset the Secret Key, follow these steps:

1. Navigate to your Xero account.
2. Go to Apps and select CHIP.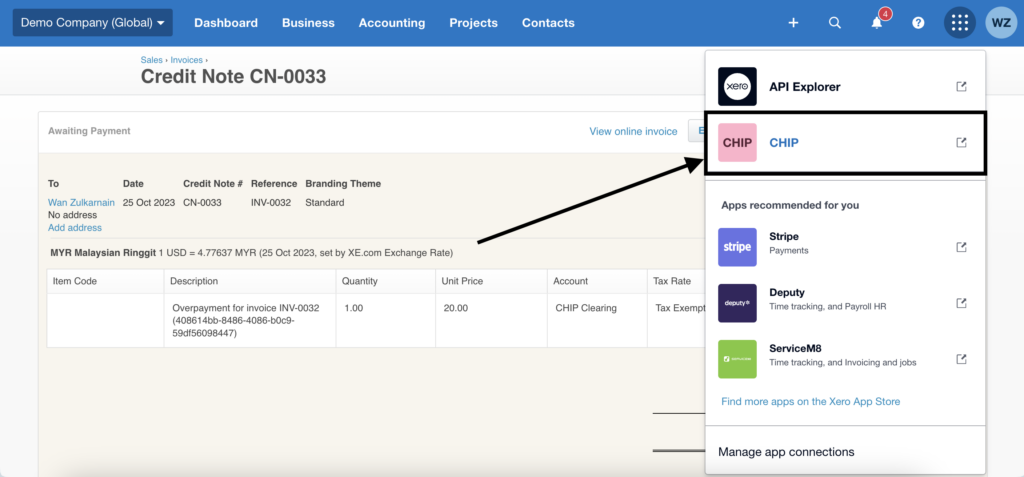 Here you can enter new keys and submit the changes.

2. Setting up CHIP as a Payment Provider
Integrating CHIP as your payment provider on Xero is a straightforward process, beginning with the addition of a new payment option. On the add payment service interface, you select the option to introduce another online payment method.

Following this, you're presented with the additional payment service popup, where you're to choose 'Custom Payment URL'.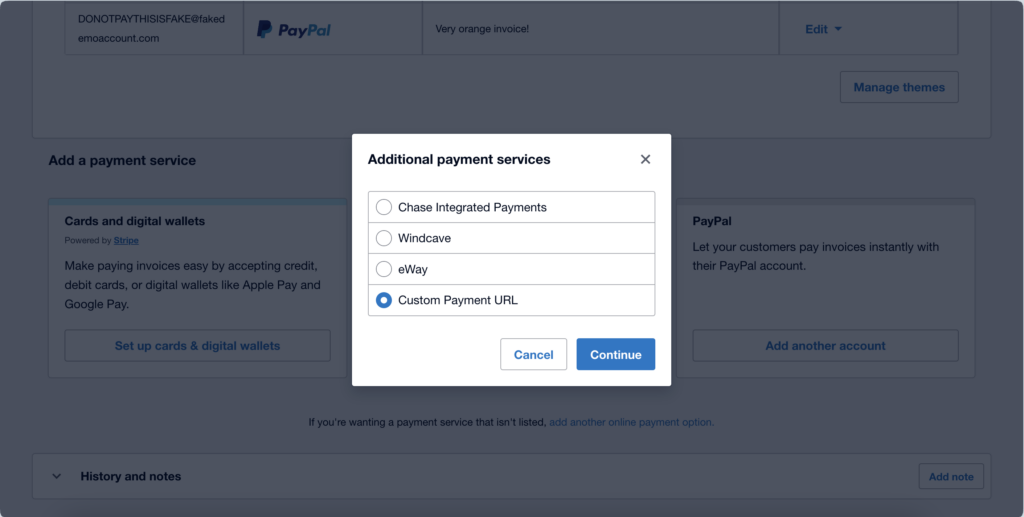 The next stage involves entering specific details to set up CHIP:
Account name: CHIP
Your custom URL: https://xero.chip-in.asia/create_purchase.php/?invoiceNo=[INVOICENUMBER]&shortCode=[SHORTCODE]
Pay now button text: Pay with CHIP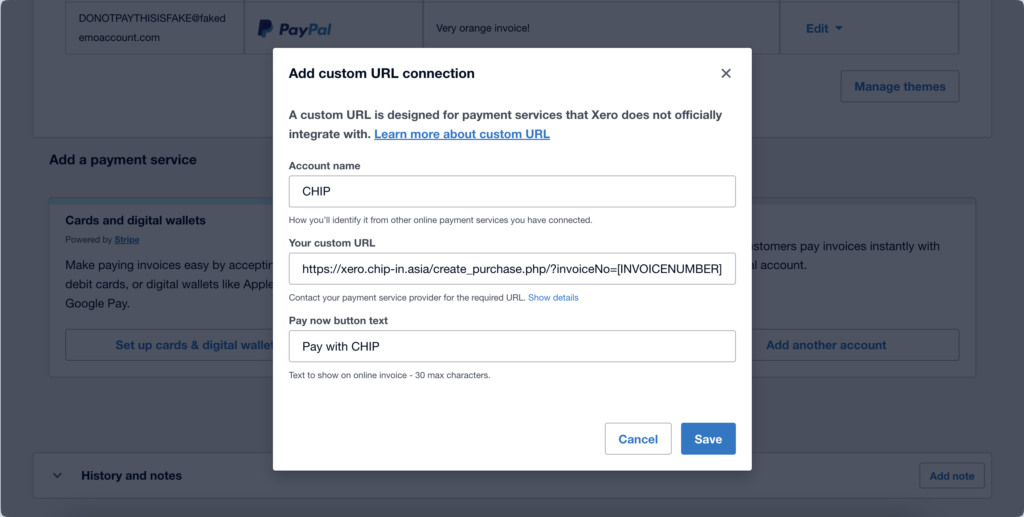 After this, you need to integrate CHIP across your Xero branding themes. This is done by clicking on the 'Manage themes' button and selecting CHIP as the default payment method.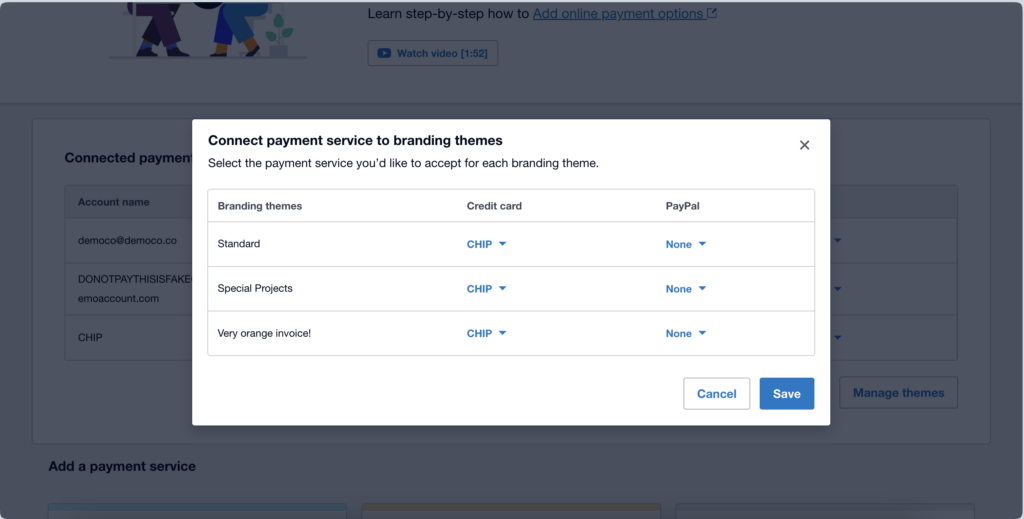 Now that the setup is complete, it's time to ensure everything is functioning correctly with a test.
3. Testing the Integration
The purpose of testing is to verify the integration's accuracy. Begin by creating an invoice which then allows you to navigate to the invoice's payment options. Clicking 'Pay with CHIP' should take you to the payment interface.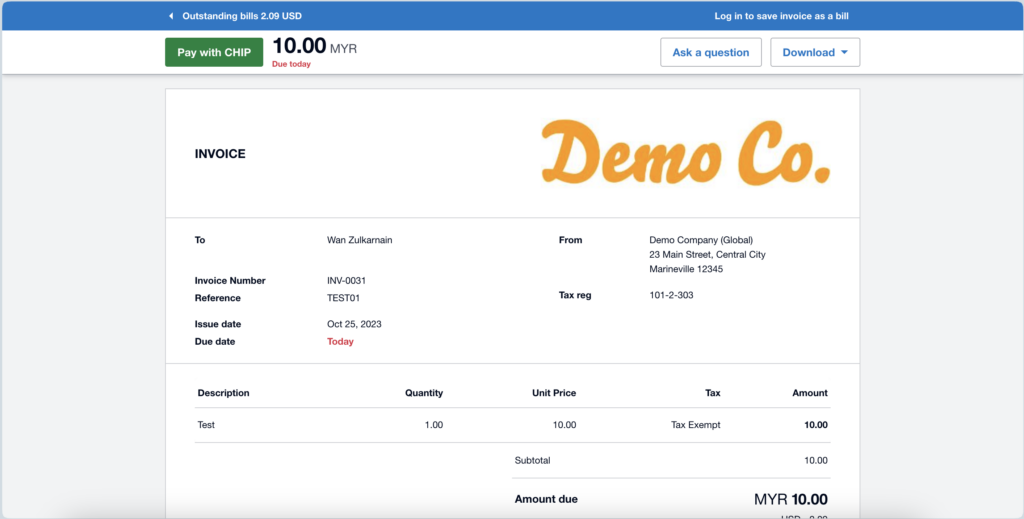 If a preferred payment method has been configured, such as a card, the purchase page will reflect this preference by displaying the card payment option first.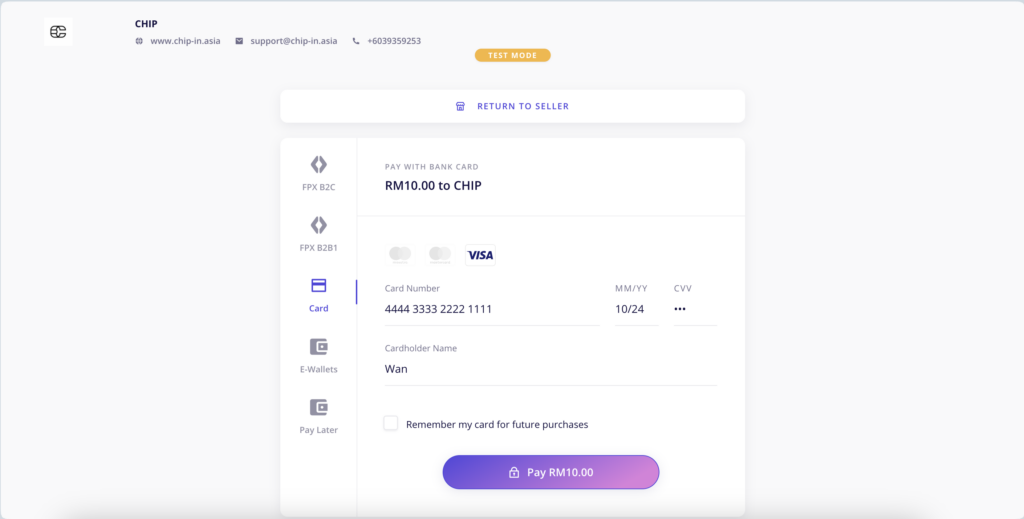 Successful payment will result in the invoice being marked as 'Paid' immediately, indicating the transaction has been processed correctly.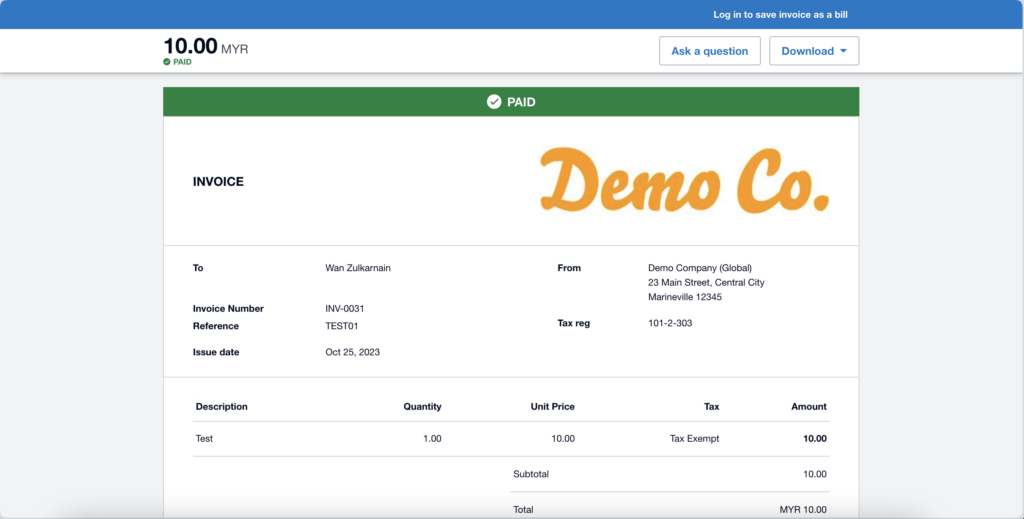 For merchant transactions, CHIP prepares a bill that accounts for the MDR fees. It's important to note that during testing, these fees might show as zero.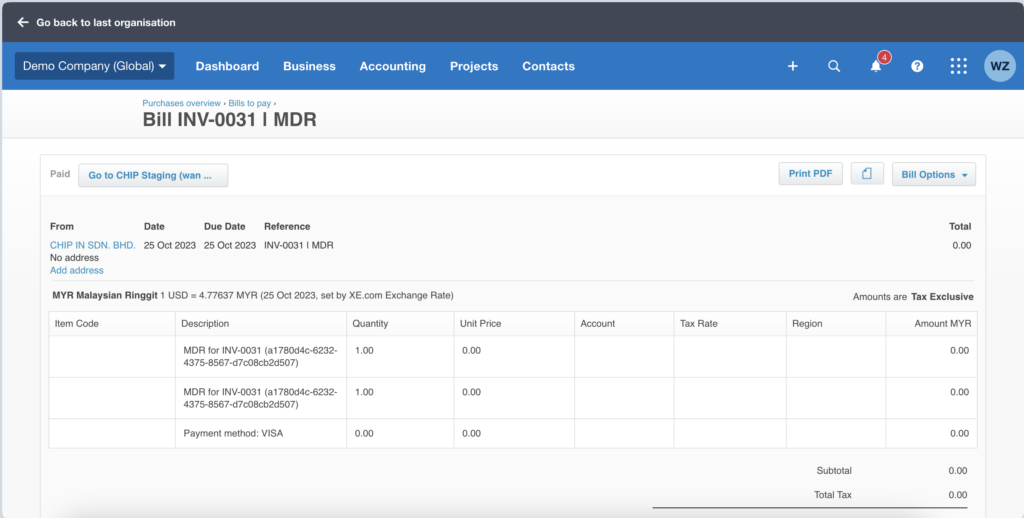 Additionally, CHIP ensures that any overpayment is systematically recorded. A Credit Note will be created for any amount overpaid by the customer.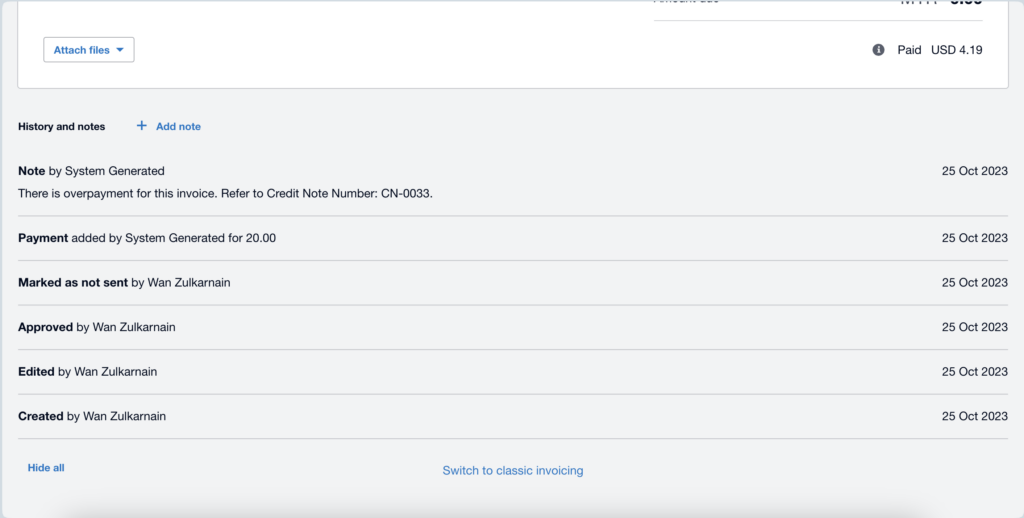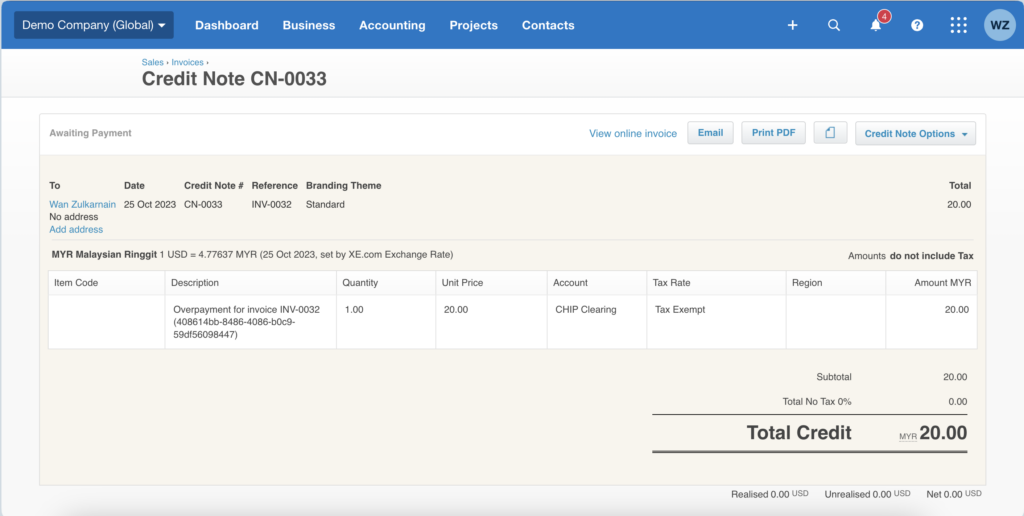 Key Points to Remember
Xero stands out as a prominent and extensively adopted accounting platform in the business world.
With Xero, issuing invoices is streamlined, enabling payers to complete payments efficiently.
The status of invoices is automatically updated, a feature made possible through seamless integration with CHIP Collect.
Recommended related topic
Read: FPX Response Codes: A Guide for CHIP Merchants
---
We're always open to content contributions from our community. Join our Facebook Group and share your work or topic ideas to potentially be featured on our blog.
Don't forget to like and follow us on our social media platforms if you haven't yet. You can find us on Facebook, Twitter, Instagram, and LinkedIn. We appreciate your support! 🙂